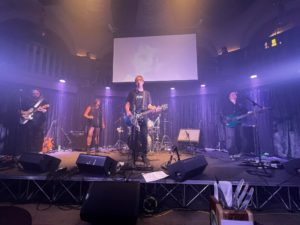 A big thank you to all those people who made our full 2 hour show in The Bedford, London, such an amazing event!  A good time was had by everyone, and we thoroughly enjoyed ourselves!  You can read a full review of the show over at the Wrinkly Rockers Club website.
Special thanks go to Carola Baer for her contribution as backing singer for the show, and her outstanding solo set.  For anyone who deosn't know Carola, she fronts her own project as Ruby Dawn, and she kindly joined us to provide some extra showbiz to the whole We're All In This Together set.  Also thanks goes to John Hunt, who's acoustic solo work is not only brilliant, but clever and thoughtlful.  Other special mentions go to our good friend Chris Parkins over at London Prog Gigs, who has been instrumental helping bands get the word out.  We highly recomend giving him a follow over on Facebook!
The band is now back to finishing our new (reissue) album. Next up is the Resurrection day festival on Sunday June 12th at The Hub in Hampton Court, tickets available here!
Please follow and like @: