Progtoberfest has come and gone, and it was a blast!  The band enjoyed a great show, and all the bands put on quite the spectacle.  It was a pleasure to share the stage with Habu, The Rube Goldberg Machine, The Far Medow and The Gift, and we look forward to see all the guys again!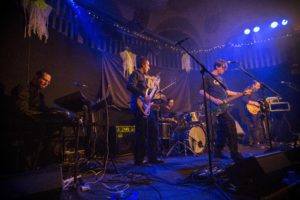 Our good friends at the Wrinkly Rockers Club were at the show, and you can read the full review of all the bands here.  Below is the extract about IT's performance.
If we needed a lift after that bombshell – what better current Prog band to step up to the plate than IT. Beginning life as a Psychedelic Multi-Media group, Harrow-based artists IT (pronounced 'it') is a band with a colossal sound that shakes the bones and with a barrage of images that feeds the mind. The sound fuses the classic melodies of Prog Rock's past with a passion and intensity usually only found in Punk or Metal bands. Politics, religion, war and sexuality all come under the band's lens for critical examination. Lyrics are intelligent, challenging and – occasionally – darkly humorous. They released their long awaited fifth album 'We're All In This Together' in March 2017 to critical acclaim with writer/producer Nick Jackson on vocals and guitar, co- writer/producer Andy Rowberry on lead guitar and backing vocals, James Hawkins on bass, Will Chism on Drums and Ryan McCaffrey on keyboards. Hawkins bass intro on opener 'Power' – also the opener on 'WAITT' – saw the bespectacled black 'straightjacketed' presence of Jackson take control of proceedings – the band immediately making a musical statement of intent as well as a political one. Their excellent single 'The Working Man' – cue Jackson's political flag waving – although based on the drive to accumulate possessions and the wastefulness that often follows, was beautifully counterbalanced by the delivery of a couple of guitar solos from Rowberry. Two years ago the band released their next number 'Last Chance' for the charity CD compilation 'Voices for Hospices', which featured – amongst others – a brand new track from Steve Hackett. A protest against what's happening to our NHS – I'm sure Mr. Hackett would not have protested about another stand out solo from Mr. Rowberry – with Nick getting us Proggers to join in on the chorus – "together". By this time Harrison Wells lookalike Jackson had removed his the aforementioned straightjacket revealing a 'God' t-shirt before he introduced the next song – "It's a mover" – and he wasn't wrong as he smashed his percussion about on 'Gamble The Dream' – reinforcing their unique sound with its welcome Floydish tinge. If I was to pick my favourite from 'WAITT' it would be a close contest. A longer set would see the twelve minute 'The Path Of Least Resistance' as a classic finale, however, they did thankfully include the superb 'Voices' which not only encapsulates what IT is all about including outstanding keyboards from McCaffrey plus the driving engine room of Hawkins and Chism, but it also features a George Galloway speech about Iraq which according to Nick, George did in one studio take. A great way to challenge/change our political beliefs George! The Floyd influence on both the intro and outro of new single 'House', sandwiched the apt Halloween chorus of "Like a ghost in this house" before the guys rounded off their take from 'WAITT' with another cracker 'Revolution', with its heavy riff and 'Timewarpish' chorus. Brilliant. And in one of those – 'you couldn't make it up moments' – their finale was taken from their previous 'Departure' album, namely the driving 'God Is Dead' – just as two of our friends arrived – one of which was a Catholic priest who had just returned from Sunday Mass! All I can say is that the Gods are currently with IT. What a set.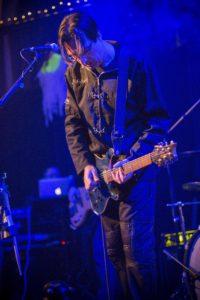 We would like to thank Tom Ashcroft, who stepped in with only four rehearsals to play the show, and this gig was the first for Ryan on keys since he joined the band at the later stage of recording WAITT.  Both guys were excellent on the day, and we loved having them join us on stage finally!  And of course a huge thank you to those who made the trip down to see us!
There will be more interesting things coming soon from this show,  so keep your eyes and ears open for updates about that, as well as news regarding more gigs in the New Year!
Till next time!
Please follow and like @: